International Self Storage Computerized Security System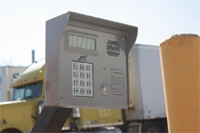 * Protects your valuables 24 hours a day
* Allows only you to enter gate
* Allows only you to enter your storage unit and only you have the key and your private burglar alarm code!


Computer-controlled gates allow only you, the customer to enter International Self Storage. By keying in your personal code, you open the gate and disarm the security system to your unit only. When you leave, you again enter your code, which will open the exit gate and re-arm your unit.
For further protection, our manager is on site during office hours. Only you have the key to your space - no one else has access without your permission. That's why so many busy people are placing their valuables at International Self Storage.